Floral Cashew Cheesecake (raw + vegan)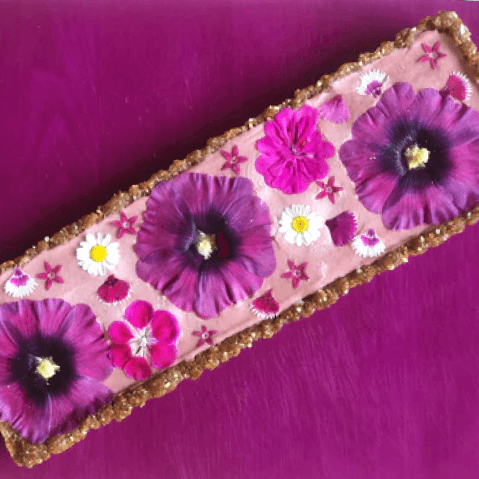 Filling ingredients:
1 1/2 cup raw cashews
juice of 1 lemon
1/3 cup melted coconut oil
1/2 cup coconut milk
1/4 cup maple syrup
1/4 cup fresh or frozen raspberries + handful more to set into filling
Crust ingredients:
3/4 cup pitted dates
3/4 cups dried apricots (or any other dried fruit!)
3/4 cups raw pecans (or the nut of your choice!)
pinch of salt
edible flowers to decorate
To prepare:
First, soften your cashews by the quick soak method.  Put them into a large mason jar and then pour boiling water over the nuts until they are covered by at least 2 inches.  Let sit for 1 hour or more.
Now, blend up your crust ingredients in a food processor until mixture forms into a ball and starts pulling away from the edges of the food processor. Then line your tart pan (preferably with a removeable bottom) with the date pecan mixture, patting down until it evenly lines the bottom and sides of the pan.  Put in the freezer.
Once cashews are softened, strain out the water and place cashews in a medium sized bowl.  Pour in lemon juice, coconut milk and oil, maple syrup, and raspberries and blend with a handheld blender until completely smooth.  Adding a touch more liquid if too stiff.  Now scatter some raspberries onto the bottom of your frozen crust.  Pour the cashew filling on top of the berries and smooth with an offset spatula to the same height as the crust.  Put in the freezer until set but not too frozen (for about 15 minutes).  In the meantime, gather and lightly rinse your edible florals.  Start decorating your blank pie canvas with the edible flowers.  You can use all one color or mix it up with multiple colors.  Have fun and experiment!
Place back in the freezer for an hour or so until completely hard.  Slice into desired slices and serve chilled.  Please note this recipe is best served cold and will stay fresh in your freezer in an airtight container for up to 1 month.